'If a child has been able to play, to give up their whole living being to the world around, they will be able, in the serious tasks of later life, to devote themselves with confidence and purpose to the service of the world.'

Rudolf Steiner
Playgroup
"Many lasting friendships are born in Playgroup for both children and parents. It is a fantastic introduction to the many benefits of Steiner Education and to learn more about our school community."
– Tania Chaffey, Playgroup Facilitator
Our playgroup is an opportunity for parents and young children to come together and enjoy songs, stories and a rhythmic introduction to Steiner Education. It is a warm and nurturing introduction to the life of the school and provides support and education to parents in their child's early years.
Playgroup sessions have been on hold in 2021/22 due to covid restrictions.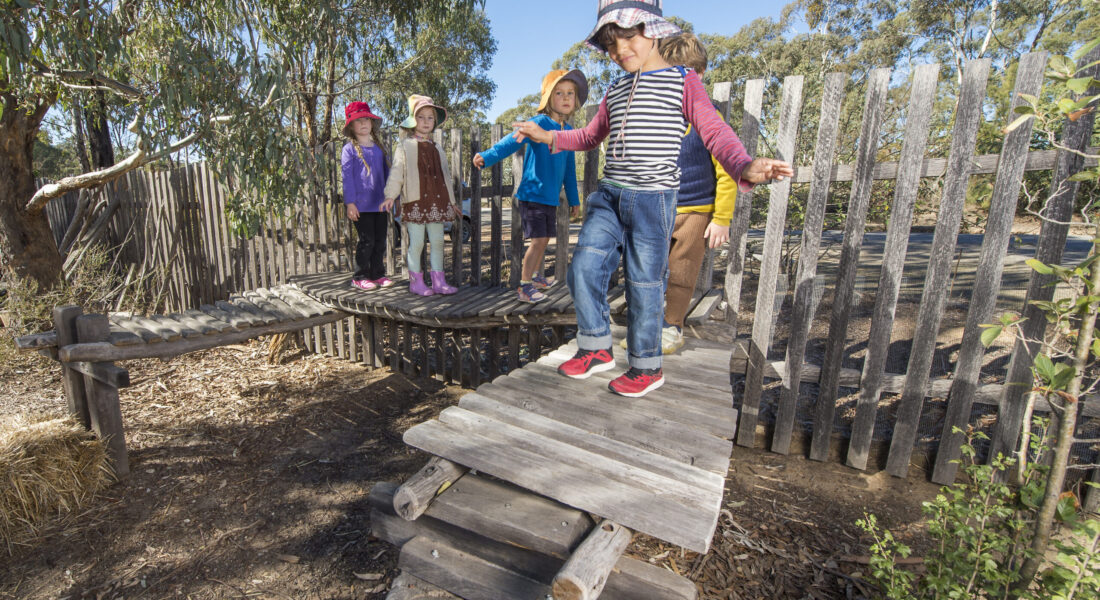 Kindergarten
"Kindergarten is a wonderful year of growth for children, where they experience their first formal educational setting. They are introduced to the delights of learning how to look after themselves, each other and our kindergarten. It is a rich and vibrant time in a child's learning and in their play experiences. As educators, we are always delighted and warmed by the children's capacity to experience joy and wonder throughout their kindergarten day."
– Tobie Coggle, Kindergarten Teacher.Children attend the Four Year old Kindergarten program three days per week, Tuesday to Thursday from 8.45pm to 3pm. Our group is a maximum of 18 children, supported by three staff each day.
In 2022, we commenced our Three Year old Kinder program, which runs on Fridays for a total of 5 hours.
The daily rhythm of activities provides time for creative play, to learn sharing and cooperation with others, songs, verses, and games. We have seasonal festivals throughout the year, a tradition of telling well-loved fairy tales, and many creative activities such as painting, wool crafts, sewing and beeswax modelling.
Parents begin to attend their termly class meetings where a deeper exploration of the curriculum and stages of development are offered to parents, as well as being an opportunity to come together and connect as a parent group.
Refer to the Enrolment information for details on how to apply for a place in Kindergarten. Places can be limited and early registration via an Expression of Interest Form is strongly advised.
'No Jab, No Play' is the name of legislation that requires all children to be fully vaccinated unless they have a medical exemption to be enrolled in childcare or kindergarten in Victoria.
Our Enrolments Officer will advise on what types of documentation are required for this policy during the enrolment process.
In 2023, the school will be offering free kindergarten in accordance with the Victorian Government's free kindergarten program.

Prep
"Each year I am amazed by the imagination of the children and their ability to immerse themselves so completely in their Play. I love to see their satisfaction as they master new skills, to see the care and respect they develop for each other, the bonds of friendship that grow and to share in their joy and wonder for the natural world."
– Heather Osborn, Prep Teacher.
Prep runs from Monday to Thursday each week from 8.45am to 3.10pm. The class maximum is 22 students with a full time Class Teacher and Class Assistant.
The prep curriculum builds on the foundation created in the Kinder and follows a similar structure and rhythm.